Just a couple of years ago, you had to invest in a big and expensive ATV (all-terrain vehicle) if you wanted to go on an off-road adventure — the kind of bulky vehicle you'd see on a National Geographic safari.
The other alternative used to be dirt bikes, which is essentially a lightweight motorcycle with special grippy tires seen on race tracks and motocross events. Just like ATVs, dirt bikes are a hefty up-front investment, with maintenance costs racking up every year.
But with the advent of powerful electric technology and innovation, we're seeing a whole new type of electric vehicle: the off-road electric scooter. We've come a long way from kick scooters with a chain-driven motor. The modern off-road electric scooter brings sleek portability to an aggressive motorized vehicle — while being at an accessible price point for the average person.
Off-road electric scooters are significantly different than their commuter scooter counterparts. An electric scooter that's built for city roads usually cannot handle dirt roads and uneven terrain — the motor would fail and the tires would slip. (Just as a professional cyclist would never ride a mountain bicycle on asphalt.)
A powerful off-road electric scooter opens up a whole host of opportunities. Going trekking or hiking? Camping in the woods? Exploring dirt roads in the countryside? Take your off-road e-scooter along, tucked in your car trunk.
We've tested out multiple models in the off-road category with a strong focus on rough terrain performance and off-road riding experience. Here are the top 5 best off-road electric scooters in the market.
Short on time? Our top recommendation goes to KAABO Wolf Warrior 11.
If you're looking for electric scooters more suited for your everyday commute: here's our definitive guide to the best commuter scooters of 2023.
Best Off-Road Electric Scooter of 2023 + 3 Alternatives
1. KAABO Wolf Warrior 11
Our Top Pick
The KAABO Wolf Warrior 11 has everything you'd need for ultimate off-road adventures, and it's also our top off-roading pick for 2023. It's easily one of the most powerful electric scooters out there — with a maximum output of 5400 watts from dual brushless motors, handling upward inclines up to 30% grade like it's no big deal.
Tires
When it comes to off-roading, these deeply-treaded tires are the game-changer. The Wolf Warrior 11 is fitted with incredible wet-grip 11″ tubeless tires — the experience can only be described as practically hugging the ground (irrespective of rain, mud, or gravel). This all-terrain electric scooter isn't just exceptionally powerful: it's also pretty fast.
Speed
You can achieve a maximum speed of 50mph with quick acceleration on off-road terrain, though it's recommended that you swap out the tires if you're planning to go top speeds on roads or pavements.
Incline
Couple these tires with front and rear drive capabilities, and it's easy to see why this scooter can even handle 45% inclines. I tested out the Warrior 11 on a 45% dirt hill and didn't feel like I was pushing its capabilities too much, though there was a significant dip in speed (about 30mph felt the maximum)
Suspension
Suspension is an important factor on any electric scooter, but it gets even more important when you're off-roading on a dirt track, sand, or gravel. Riding off-road is unsurprisingly bumpy, and I was super impressed with the almost smooth ride on the KAABO Wolf Warrior 11. I don't think off-roading is ever going to be 'buttery smooth', but the shock absorption is pretty insane on this dirt scooter.
Even when I was riding on actual gravel, the ride had a noticeable bumpiness to it without feeling like my brain was rattling. That's because it isn't built with an ordinary front suspension — you have a full front hydraulic version in addition to a dual spring suspension. That's why I could quite literally feel the cushioning from the front and rear suspension.
Mileage
Once you know your electric scooter has enough power to handle uneven terrain, the next obvious question is, "Well, for how long?". You'll need substantial range and mileage capabilities on any good off-road electric scooter so no-one places a cap on your adventure.
The Wolf Warrior 11 claims to offer around 70 miles of maximum range — but a more realistic number would be around 30 miles when you factor in aggressive riding off-road (especially at inclines), which is the way I tested this scooter. If you're going on an even dirt road at a modest speed, you can feasibly achieve 70 miles.
Pros
Great scooter for off-roading
The best suspension system and ride quality
Fully hydraulic brakes with an ABS braking design
Weight capacity of 330lbs
Twist grip throttle
Top speed of 50mph
Bright LED lights for night riding off-road
Water resistance against rain
Cons
Not a lightweight scooter at 105 lbs
Not a very portable scooter
Verdict
Though the KAABO Wolf warrior 11 has tires that can be swapped for on-road ones, most riders purchase it for off-roading. In fact, this electric scooter has become something of a poster child for off-road electric scooters. It ticks all the checkboxes and is perfect for anyone planning to go on a trip soon (especially if your trip includes steep hills).

Get the KAABO Wolf Warrior 11 here.
2. Dualtron Ultra 2
Most Powerful Off-Road electric scooter / Premium Off Road Electric Scooter
The Dualtron Ultra 2 is clearly the most powerful electric scooter when it comes to off-roading, and we'll quickly explain why.
It's equipped with dual motors that have a max output of 6640watts. That's approximately a whopping 22 times more power than a rental e-scooter like Bird or Lime. Clearly, this isn't a toy. With that much power, you can take on rocky terrain uphill, with a heavy rider and baggage.
Off Road Tires
With motor power as high as this, you'd expect tires that can really deliver. The Dualtron Ultra 2 is equipped with massive knobby tires — these bad boys are 11″x 3.5″ and ultra-wide. Off-roading isn't always the safest experience, and ultra-wide off road tires tires play a role in providing a more stable ride. They also do a great job of reducing rebound when riding on even terrain, and absorbing bumpiness when riding on rough terrain.
They're also very low maintenance — with no chance of pinch flats since they lack the inner tube.
Speed
The top speed of the Dualtron Ultra 2 is comparable and competitive to the KAABO Wolf Warrior 11 — at 56mph max speed you better hold on to those handlebars tight. Even though the max speed is higher on the Dualtron Ultra 2: it's unlikely you're going to be experiencing such high speeds unless you're riding on a really even terrain: maybe a long straight dirt road.
But when you're on grass, gravel or a rocky pathway that's uneven and inclined, it's near impossible (not to mention dangerous) to attempt such speeds.
However, it's worth noting that the acceleration isn't the fastest. Even if you're riding on asphalt, it takes more than 15 seconds on the trigger throttle to go from 0-50mph. For many off road riders, this isn't a dealbreaker.
TLDR: The Dualtron Ultra 2 can go faster speeds than most riders are prepared to go off roading at.
Braking
For an off road scooter capable of more power than the average ATV, it's absolutely necessary that the brakes are high-performing as well. You'll find full hydraulic disc brakes on the Dualtron Ultra 2, that effectively tame the motor into submission.
When test riding the the Dualtron Ultra 2, I found the dual disc brakes could bring a 35mph ride to a clean and swift halt without any lurching or screeching in under 3 seconds. Lots of off road scooters require a slower braking system since they run the risk of the rear wheel lifting up — the Dualtron Ultra 2 is designed in such a way that you can 'slam' the brake lever and this never happens.
Suspension
While the knobby tires do a great job of shock absorption — they can't take all the credit. The Dualtron Ultra 2 is equipped with motorcycle-grade suspension. Rubber spring suspension in the front and rear wheel does a great job of smoothening out the trail you're riding on. Rubber spring suspension is made with bonded layers of friction-less rubber and steel reinforced plates. The result of rubber suspension is a distinctive 'bounce' in your ride, bumps are cushioned, and muted and insulated noise levels.
Incline
Depending on how aggressive your off-roading terrain is, it's quite likely you'll be going up and down slopes and inclines. As a premium off road electric scooter, the Dualtron Ultra 2 can handle up to 35% inclines, which is considered very steep. The steepest slopes in San Francisco are about 35% grade, and this off road scooter can handle it with ease.
Mileage
With a total range of 64 miles on a full battery life, the Dualtron Ultra 2 can be safely considered a long range off road scooter. It's just short of what the KAABO Wolf Warrior 11 offers, but you can also expect a more realistic range of 45-50 miles if you're putting your scooter through rough terrain and higher speeds.
Pros
Powerful rear wheel drive
High quality aluminum alloy build material
Top speed of 56mph
Maximum weight limit of 330 lbs
Rubber spring suspension for improved ride quality
Perfect on uneven terrain for the off road enthusiast
Dual motors with total output of 6400 watts
Cons
Acceleration is slower than other scooters in the category
Priced premium, not affordable for everyone
Does not fold compact and is heavy at 88lbs
Verdict
After extensive testing, it's pretty clear that the Dualtron Ultra 2 is among the best electric scooters for serious off-roading. In fact, the only reason we chose the KAABO Wolf Warrior 11 over the Ultra 2 as our top pick is because this off road scooter is priced higher and may not be affordable for everyone.
The Dualtron Ultra 2 is undoubtedly the most powerful off road scooter — making it fit for serious off roaders who ride on aggressive terrain for adventure. We wouldn't recommend investing in this beast of a machine if all you plan to do it ride along a hiking trail!
Get the Dualtron Ultra 2 here.
3. Hiboy Titan Pro
Best Budget Off Road Scooter
You've probably noticed that the best off road scooters are in the premium electric scooter category — but this doesn't mean that you have to settle for a commuter scooter if you want to go off-road.
There are a few good off road scooters in the budget category — perfect for the occasional getaway, and the Hiboy Titan Pro is one of them.
Equipped with powerful 1200w dual motors, the Hiboy Titan Pro delivers a maximum output of 2400watts: modest when compared to bigger beasts like the Dualtron Ultra 2, but still very impressive for a budget scooter.
Off Road Tires
The Hiboy Titan Pro is equipped with wide 10″ off road tires that have good off-road grip. These pneumatic tires have deep lines and a deep tread pattern that's meant to be ridden on uneven terrain. While testing the Hiboy Titan Pro, I felt the tires performed best on off road mostly even terrain (grass or even dirt paths). Rockier gravel trails and highly rough terrain seemed a bit too much for the tires to handle, I noticed minor slipping.
The tires do a good job of creating a more stable and easy-to-manuevre ride, but they don't do too much to really cushion any bumps in the road. The result is an admittedly bumpy ride when compared to more premium off road scooters on our list.
Speed
The Hiboy Titan Pro claims to achieve a high speed of 32 mph, but I couldn't do more than 26.5mph while riding on even off road terrain. You might be able to achieve up to 30mph while riding on road, however.
The acceleration is quick and snappy, but you might experience a bit of a lurch if you engage the throttle too hard.
Just like other Hiboy models, you get three different riding modes for different speeds and energy consumption. The eco mode allows riders to ride at lower speeds for higher mileage and a better battery management system; a convenient option when you have a longer distance to go.
Braking
Disc brakes on front and rear wheels don't disappoint here — and the Hiboy Titan Pro is also equipped with a set of electronic brakes on the rear brakes for safer braking. Seeing as off road riding is significantly more dangerous than regular electric scooter commuting in the city, it's great to have a varied braking system.
The disc brakes aren't as smooth and swift as the hydraulic brakes on the more premium off road scooters on this list, but there's nothing to complain about. Seeing as the Hiboy Titan Pro isn't really going above 30mph, it's not too concerning that the braking system slows down the vehicle completely in around 5 seconds.
Suspension
This off road scooter does have dual suspension, but it's only great at one thing — resistance when landing jumps.
It does little to really cushion or mitigate the obvious bumpiness when riding off-road, so buckle up (mentally) for a bumpy ride on the Hiboy Titan Pro. This is expected, since hydraulic shock absorbers are typically a more premium feature.
Incline
The Hiboy Titan Pro has sufficient power capabilities to take a rider up a 35% grade hill, but at the cost of top speed. Depending on rider weight, this off road scooter crawls to about 10-15mph the moment you ride upwards of a 25% slope. You can achieve better speeds with a ride under 220 lbs.
For a budget off road scooter — this isn't bad at all. It's impressive that this scooter can handle a hill grade at all, and the speed seems to be a small sacrifice to pay.
Mileage
You can ride the Hiboy Titan Pro for about 40 miles on a full battery — if you're riding on mostly even terrain on the eco riding mode (which is lower speeds). Giving the Hiboy Titan Pro a run for its money on aggressive off road terrain reduces the mileage significantly. You can expect a minimum of 30 miles maximum range, no matter the riding conditions.
Pros
48V dual motor with max output of 2400w
Bright brake light and rear tail light
E-brakes on the rear disc brake
Can handle a weight limit of 286lbs
Cons
Does not ride smooth for uneven terrain
Rear brake is slower
Verdict
If you want an off-road scooter as a supplement to your regular scooter, or just one for the occasional getaway — the Hiboy Titan Pro is a powerful option. Sure, it can't handle more aggressive terrain and serious off-roading, but is high on value for money.
The Hiboy Titan Pro has features that are simply not found in similarly priced scooters, making it a great choice for an off roading beginner.
Get the best price here.
4. Inokim OXO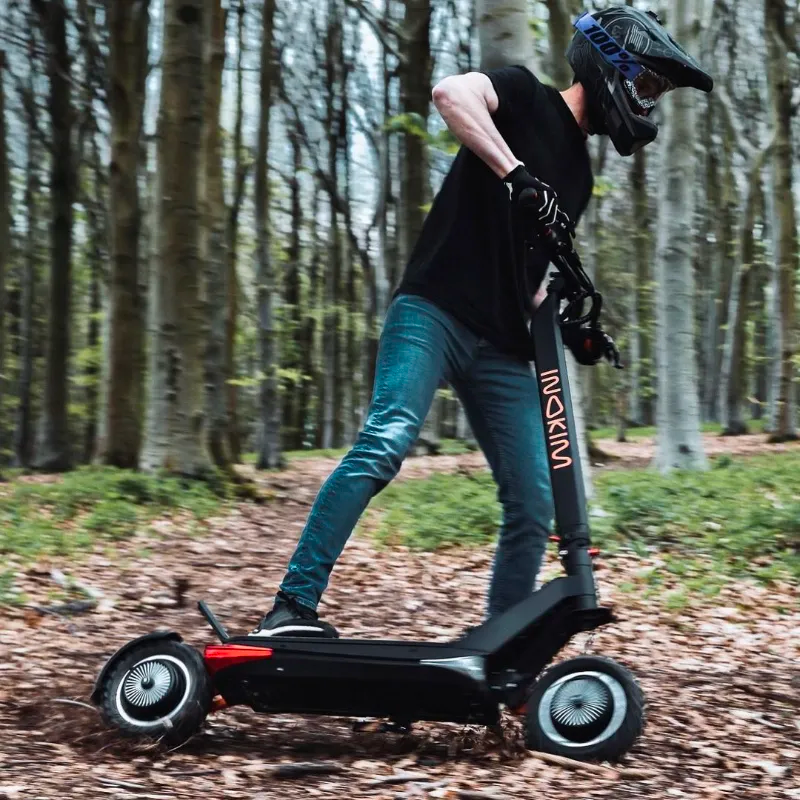 The Inokim OXO is the only Inokim model that's built to handle off roading, as well as high-performance on-road riding.
This off road electric scooter is built with two 1000w motors and an extra large 60V 26Ah LG Lithium ion battery. The brushless motors provide plenty of power without obnoxious noise when you're riding — perfect for quieter hiking trails through the forest for camping or bird watching.
One of the best features on the Inokim OXO is the deck: it has plenty of room and is comfortable and sturdy to stand on, even with your chunky hiking shoes.
Tires
The Inokim OXO has pneumatic tires with a grippy tread pattern that handle light off-roading and hug the path, but they're also suitable for on-road riding. This is perfect for riders who want the best of both worlds.
Bear in mind that these tires won't perform well when you're in the mountains; rocky paths require specific deep tread patterns for grip.
However, the tires do a fantastic job at shock absorption. Since the suspension is adjustable, I was able to single out the ride quality that the tires were delivering — and it is very impressive. When riding off-road, bumpy paths are greatly minimized and cushioned, while riding on-road feels buttery smooth.
Speed
On the Inokim OXO, you can go at a top speed of 40mph. This may sound modest compared to the other electric scooters on the list (the Dualtron Ultra 2 lists 56mph as it's top speed), but it's actually a very realistic number. Through testing off-road and on-road, you can actually achieve up to 36-38mph without too much of a dip in battery level.
Acceleration is swift too, going from 0 to 35mph can be done in under 10 seconds.
Braking
The hydraulic disc brakes have fast stopping power, though I noticed a bit of skidding if you're riding too fast off-road. This happens on loose dirt and sandier paths, so it's a good idea to ride around 30mph on that kind of terrain.
Suspension
The Inokim OXO has adjustable suspension — which goes hand in hand with the pneumatic tires for a cushioned and comfortable ride. You can adjust the suspension according to your riding conditions — on road or off road, but they perform well no matter how you configure them. Since you can also change the board height, it's a good idea to test out what fits you best.
Incline
It's pretty clear — the Inokim OXO is not built for inclines. The manufacturers do not advertise its incline riding abilities and we can see why. The motor power isn't sufficient to carry heavier weights up a steep slope, particularly off road. Gentle slopes and inclines are possible, but do not take this off-roading scooter to hilly landscape.
Mileage
Depending on riding speed and rider weight, you can expect anywhere between 35-52 miles on a full battery. Lower speeds and on-road conditions can give you the full 52 miles, but my battery died out after 35 miles when I was test riding off-road.
Charging time is long as well, upwards of 12 hours, but you can cut this by more than half if you choose to purchase the fast charger accessory.
Pros
12 month warranty
Water resistance to rain and dirt
Can handle both on-road and off-road
Powerful hydraulics on the brakes and suspension
Easy folding mechanics
Cons
Lights are a bit dim, have to get install an extra light for night riding
Heavy to carry at 74 lbs
Verdict
The Inokim OXO is one of the only electric scooters that can manage on-road and off-road riding conditions without needing a tire swap. The downside of this is you can't accomplish aggressive off-roading, but an electric scooter like this saves you a lot of money since you don't have to buy two.
Buying Guide: How to Choose the Best Off-Road E Scooter
Understanding Off-Road Terrain
The first step to buying the right off road electric scooter is knowing the terrain you'll be riding it on. All off road paths aren't created the same, and there are plenty of off road scooters in the market designed for specific terrain demands.
Rough Terrain
Rough terrain requires the most powerful e scooters. This is terrain situated in mountaineous or hilly regions, and typically has more rocks and gravel than softer earth. The vehicles capable of tackling this kind of terrain have to have superior pneumatics and incline handling capabilities (around 35% grade).
Uneven terrain
This kind of terrain isn't as rocky as you'd find in the mountains, but can have plenty of sand and gravel, often without a clear path or trail mapped out. A mid-range to premium off road e scooter can handle this kind of path, and needs grippy tires to avoid slipping on loose soil and sand — but may not be able to go up inclines.
Flat Terrain
Flat terrain for off roading refers to mostly flat and charted out paths that aren't too taxing on an e scooter. These might be walking paths in forests, camping spots or national parks.
While it's not recommended that you go ahead and try using a regular commuter scooter for this type of terrain — you can get away with budget to mid-rage off roading scooters as long as they have decent grip tires and quality control.
Safety while Off Roading
Safety is imperative when you're riding an electric scooter, but all the more so when you're off roading.
Now's not the time to underestimate your two-wheeler — and we strongly recommend donning a helmet and protective gear for your elbows and knees. Avoid brain injury by ensuring your helmet is DOT certified, and wear wrist guards if you can!
Even if you've been riding an electric scooter for years, riding off road requires a different skill set altogether. Practice falling correctly and it might just save your life — always fall against your back and crouch and bring the elbows in. Practice rolling as you make contact with the ground to minimize impact damage. The more you practice, the more this method of falling will become second nature to you should you get into an accident.
What makes an electric scooter suitable for off roading?
Here's what to pay attention when shopping for an off road e scooter.
Motor
The electric motor on an off road scooter has to be a minimum of 750watts to be able to handle the strain that the terrain places on it. The average electric motor scooter is about 350watts, which is insufficient for off roading.
For rougher terrain, there are electric scooters with electric motor power up to 6400watts (such as the Dualtron Ultra 2).
Brakes and Acceleration
The braking and acceleration mechanism have to be superior when it comes to off roading capabilities since the riding style involves much more maneuvering and quick movements. Aggressive riding requires brakes that can stop higher speeds on slippery terrain like sand and loose gravel.
Look electric scooters with multiple braking mechanisms — dual disc as well as electronic braking for a smoother and more powerful effect.
Wheels/Tires
'The bigger the better' is a pretty good standard to go by when it comes to off road tires. Wider tires have better cornering and stability which is super important when it comes to riding off asphalt. You also need to pay attention to the tread pattern and type of tires.
Tread pattern refers to the grooves and patterns on the wheel itself, this determines how grippy your tires will be. Deeper tread patterns typically have more grip. Look for 'wet grip' if you'll be riding in rainy or swampy conditions.
Pneumatic tires have better shock absorbing ability, while solid tires can give a rougher but lower maintenance experience, since they're more resilient to pinch flats.
Type of Suspension
We recommend staying away from any off road scooter that does not have suspension built in — since it'll be incredibly uncomfortable. You'll come across spring suspension and hydraulic suspension.
Spring suspension can be in one of the wheels, or in both, and works with a coil and rubber sheets that absorb bumps in the road.
Hydraulic suspension utilizes a liquid hydraulic actuator to absorb uneven off road terrain.
Waterproof
No electric scooter — off road or on road — is completely waterproof. However, you'll find high levels of water resistance in higher end vehicles. This means the scooter can safely be in rain or ride through puddles and watery tracks. However, battery damage can still occur with water contact, so it's a good idea to wipe it down once you reach your destination and store in a cool dry place.
Water resistance also means that the external build material of the scooter is resistant to corrosion and other water exposure-related damages.
FAQs about Off Road Scooters
Are electric scooters good for off roading?
Electric motored scooters might just be the best choice for off roading. Not only are they more affordable than ATVs, they have incredible power capabilities that rival traditional off roading vehicles. Since they're electrical, they're capable of higher performance all the while being a greener and cleaner for the planet.
Which is the best off road scooter?
The KAABO Wolf Warrior 11 is widely considered the best scooter for off roading. This electric two wheeler is capable of going up 45% inclines, achieve speeds up to 50 mph and give a max output of 5400 watts. KAABO is also a reliable brand that's been producing top of the line scooters for over a decade.
Can you ride a scooter on sand?
You can absolutely ride on sandy terrain with an off road scooter, but make sure you select one that has tires with the right grip. Look for directional or assymetrical tread patterns, these tires make riding in sand easier.
Can you ride a scooter on grass?
You'll need to use an off road scooter if you plan to ride on grass — but you don't need a very powerful one. Any budget off road e scooter can typically handle grass and even terrain. You can even try riding on a regular commuter scooter made for rapid transit on grass if it's fitted with wider tires, but there will be a risk of slippage.
Final Words
Off road electric motored scooters have made off roading accessible to a lot more people. Camping trips, hiking and other outdoorsy stuff gets much easier with the right off road electric scooter, so make sure you choose the right one for your needs.
If you're struggling to make a choice — the KAABO Wolf Warrior 11 is our top pick and a great choice for just about any adrenaline-filled off road fan.
Scootermap may collect a commission if you make a purchase after clicking on one of its links to an external website like Amazon. Please see our affiliate disclosure for further information.