The price of a motorized scooter in the electric scooter industry has been steadily rising since the early 2000s. This is mainly because electric scooters have gone from measly 150w barely-more-than-a-toy to full-blown high performance. And when you're talking about a vehicle capable of propelling a standing human (the least aerodynamic stance) at 40mph+ speeds, that requires extremely powerful and expensive lithium-ion batteries.
With the rising influx of bigger and better electric scooters hitting the market every season, it can often feel like the powerful e-scooters are way out of reach, with prices around $4000 and counting.
Luckily — there is a middle ground between scrappy 150watts scooters and 8000watts performance beasts. We've compiled a real-world tested and approved definitive list of the best electric scooters under $1200, which is the upper limit of what most beginner riders are willing to pay, according to our market research.
In this price range, you can expect beginner-intermediate level electric vehicles with sturdy build quality, efficient rear spring suspension systems, and decently high top speeds.
Note that most electric scooters for adults in this price range will have electric power of around 1000watts or below. This is enough power for average sizes with daily commuting needs — but it may prove insufficient for a taller or heavier adult. Check out our list of the best electric scooters for heavy and oversized adults here.
---
1. WideWheel PRO – Our Top Pick
Top speed: 26 mph
Weight: 54 lbs
Wheel size: 8 inches
Motor: 500W x 2
Range: 30 miles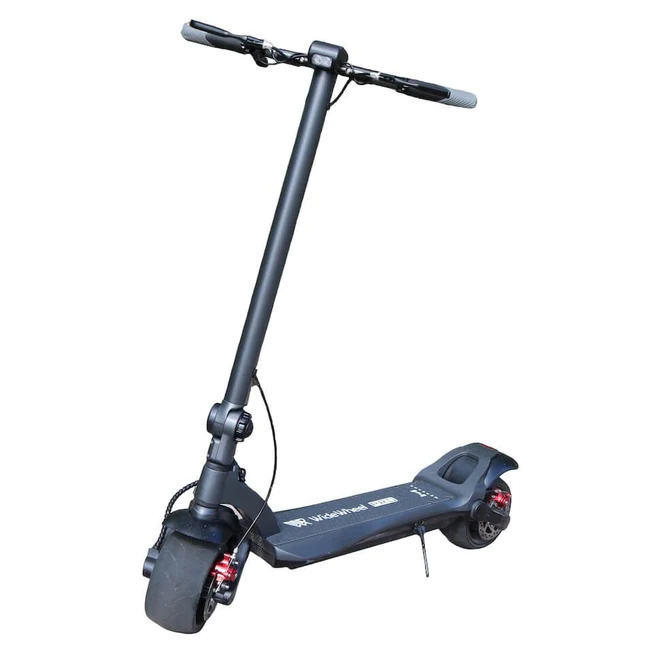 Build Quality and Wheels
At first glance, it may seem like the Mercane WideWheel Pro is the same scooter as the previous version, the WideWheel. But apart from looks, there's a huge upgrade in performance.
It's often called the Batmobile of scooters — quite the looker with its unique wide tires. It definitely doesn't look like a regular rental e-scooter.
Built using reinforced aluminum metal alloy, this scooter is built to last a long time. It sports a robust frame and long, sturdy deck. While the deck is longer than most scooters, it's a little narrow, which might be tough for certain standing positions (or people with bigger feet).
The wheels are its strongest features – they are not pneumatic tires (air-filled tires) like most electric scooters. Solid tires like these can be an advantage because it means you don't have to worry about getting flat tires. It also has an IP Code of IP54 water and dust resistance rating making it the best waterproof electric scooter on this list.
Portability – Weight and Weight Capacity
Weighing a considerable 56 lbs, the WideWheel Pro is not exactly the most portable electric scooter on this list. However, it has a quick folding mechanism and is quite self-balancing when folded down, and is a carryable weight for most people. It's definitely a portability bonus that the handlebars fold down as well.
The Widewheel Pro can handle weight loads up to 220 lbs, which is an average weight capacity.
Speed and Range
The WideWheel Pro has a top speed of 26 mph, making it the fastest scooter on this list. 26 miles per hour is more than enough speed for commuting in the city, and just about how much you can push speed when faced with traffic. While we've test-ridden much faster scooters at Scootermap, this isn't bad at all for the price tag and should fit most beginner riders' needs.
It can also go 30 miles maximum range on a single charge. This number is expected to go down if you're flooring the throttle — just like mileage on a fuel-driven car would reduce if you went high speeds.
Suspension and Ride Quality
Unfortuantely, the Widewheel Pro doesn't have the best suspension. While there are in-built front and rear springs, they're pretty stiff and do little to cushion the ride and absorb shocks. In fact, the only reason the ride isn't totally rocky is because the wheels are so wide and do a bit of damage control.

However, this isn't really an issue when you're riding on city asphalt, and for shorter rides around 5 miles.
Electric Battery and Motor
This electric scooter has one of the strongest dual-motor systems in this price range. A 500W (total 1000W) motor capacity combined with a large 48V 15Ah battery Lithium-ion battery is what delivers the speed and range, while making it just about portable enough to get on to public transport as well. The motor itself delivers good torque and acceleration, but it's not the best for hill climbing.
Pros
Best electric scooter under $1200
Durable build quality
Unique design
Wide 8-inch wheels
Dual motors
Great range of 30 miles
Compact folding mechanism
Cons
Short rear fender
Rigid suspension
Not the smoothest ride quality
Deck should have been wider
Suitable for
The Mercane WideWheel Pro is an all-rounder and our top pick for the best scooter you can get under $1200. We love its durability and powerful motor. This scooter hits the mark if you're looking for a daily driver and something that doesn't break down often.
Check out the best price here.
---
2. Mercane Jubel – Best Premium Electric Scooter
Top speed: 25 mph
Weight: 48lbs
Wheel size: 12 inches
Motor: 800 watt
Range: 40 miles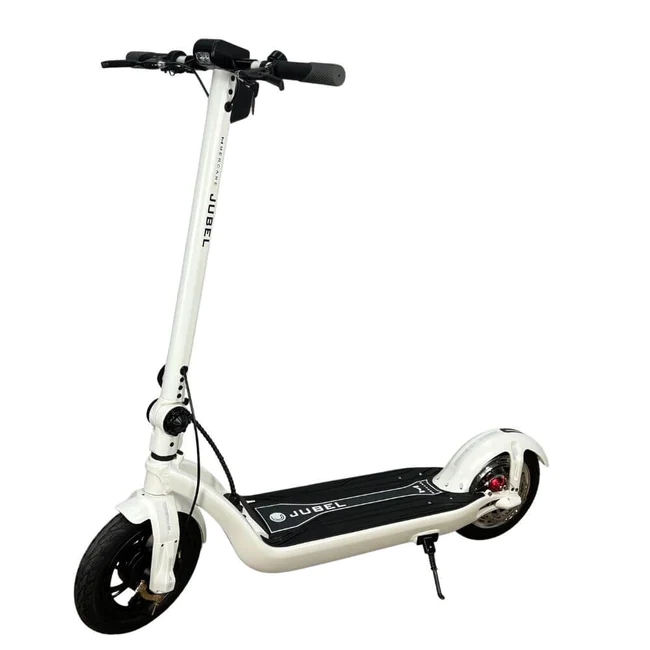 Build Quality
While the Mercane Jubel is a considered a budget electric scooter — we've given it the category title of 'Best Premium Scooter' because it's priced $99 above $1200. While it technically is not under $1200, we couldn't stop ourselves from including this noteworthy scooter. Here's why:
The Mercane Jubel has an overall sturdy modern design, and looks and feels like a step-up from the WideWheel Pro, but without the wider wheels. The design is different from other Mercane models, with a sufficiently wider deck.
Ride Quality and Suspension
The Mercane Jubel sports front and rear 12-inch tires with great pneumatic — these do a much better job than the WideWheel Pro solid tires as a shock absorber for uneven bumps.
Having said that — it's pretty crazy Mercane didn't include any kind of in-built suspension or springs, so you're completely relying on the tires.
Portability – Weight and Weight Capacity
With a 48lbs weight spec, it's definitely not a lightweight electric scooter to carry it around once you get used to it. A smooth folding mechanism that includes foldable handlebars and stem gets this really compact, and easier to fit into a smaller space.
It has a weight capacity of 265lbs which is slightly above average.
Speed and Range
The Jubel is built specifically for the everyday rider for short commutes in and around the city. With a top speed of 25 miles per hour it's not winning any races.
However, the higher-quality torque and acceleration set it apart from its rivals in the category. When you're riding in traffic, acceleration is more important than speed — and the Jubel reaches top speed in around 10 seconds, which is really quick. It's also an easily achievable speed, with our on-road tests easily reaching 25mph.

It also has the longest range out of all of these electric scooters – a whopping 4o miles. Of course, the great range also depends on what speed you ride it at – I was able to easily get around 28 miles when riding at mostly full speed. You'll be able to achieve the total range more easily when riding at slower speeds.
The Jubel has a front drum brake and a rear disc brake that brings the scooter to a smooth stop from the highest speed.
Battery and Motor – Is Hill Climbing Possible?
Sporting a strong 800W motor, the Jubel was able to handle hill climbing up to 30 degrees with low load weights. Bear in mind: it performed best with riders around 150lbs, and does crawl down to a really low speed. However, any kind of hill climbing is better than nothing when you're looking budget scooters.
In addition, its 48V 15Ah battery is quite capable of keeping you moving for a long time. It also has 2 riding modes that you can switch between – eco and power ride mode.
Pros
Premium quality parts
Longest range of 40 miles
Pneumatic tires
Smooth and safe ride quality
Intuitive folding mechanism
Best practical commuting scooter
Powerful 800W motor
Cons
Suitable for
The Mercane Jubel is the perfect scooter for you if you a little wiggle room with the budget and are looking for higher quality performance and above-average range. With minimal maintenance, this is the kind of scooter to last more than a few years.
Check out the best price here.
---
3. INOKIM Light 2 – Best Budget electric scooter
Top speed: 21 mph
Weight: 30 lbs
Wheel size: 8.5 inches
Motor: 350W
Range: 20 miles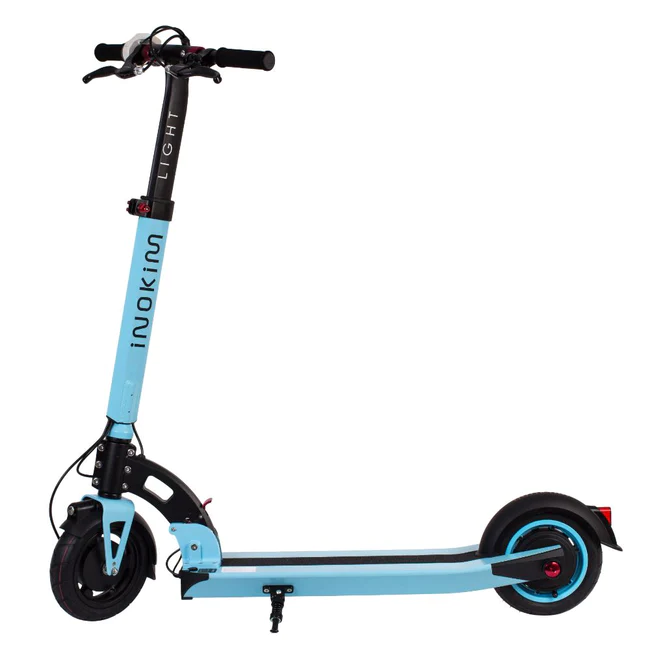 Build Quality
The Inokim brand is pretty well-known for manufacturing high build-quality electric scooters in the affordable price range.
The frame of the Inokim Light 2 is crafted with premium quality aluminum that is lightweight and super durable.
From the fenders to the wires, everything is neatly fixed and tucked away for maximum efficiency.
It has a thinner stem than others in this category that fits perfectly in your hand and supports your stance. The Light 2's handlebars are similar to a traditional bicycle handlebar and the deck has a low center of gravity for added stability.
The front and rear disc brakes do a good job of slowing down and stopping even while riding at max speed.
How Lightweight is the Inokim Light? Portability and Weight
The Inokim Light 2 weighs only 30 lbs and can handle rider weights up to 22o lbs. This is almost half the weight of the Mercane WideWheel Pro and Mercane Jubel.

True to its name, the Inokim Light 2 is compact and lightweight. It has a retractable stem and the handlebars have a folding mechanism. If you're looking for portability, it's going to be tough to beat this one.
Speed and Range
This e-scooter has a top speed of 21 mph – the only slight disappointment, in my opinion.
Other electric scooters in this list are capable of higher speeds, making the Inokim Light 2 a little slower than I would like. If you're comparing it to a rental scooter that can usually do about 15mph, it's going to be a step up — but it's still not exactly a thrilling speed to ride at.
However, I'd argue that at this cost, the unmatched build quality makes up for it. This translates to a more secure ride experience overall — and you don't feel like you're riding a suspicious rattling vehicle manufactured in China. If it comes down to shaving off a few mph for a more trustworthy brand, that's a compromise I'm willing to make.
20 miles is usually sufficient for everyday use and short daily commutes. You might want to look at a different scooter if you plan to go on longer rides.
Battery and Motor
The Light 2 is equipped with a 36V 10.4Ah battery pack that managed to charge in under 6 hours to my surprise. Scooters with shorter charge times can be a big benefit, you don't have to wait to charge it overnight.
And its 350W motor was good enough to tackle gentle inclines, but no serious hill climbing. While riding in traffic, the Inokim Light 2 was able to endure all kinds of maneuvering while still being safe and quick.
Pros
IPX4 water resistance IP Code
Extremely portable scooter
Lightweight electric scooter
Short charge time of 5-6 hours with turbocharger
Sturdy fenders for front and rear wheel
Good practical scooter for daily use
LED lamp in the front and tail lights
Long-lasting with proper maintenance and care
Cons
No suspension
Not as fast as other scooters in this category
Height is not adjustable
Suitable for
The Inokim Light 2 is best for city dwellers like students or office workers who are looking for reliable commuter scooters.
Check out the best price here.
---
4. fluid Mosquito – Best Portable Electric Scooter
Top speed: 25mph
Weight: 29 lbs
Wheel size: 8 inch
Motor: 500W
Range: 22 miles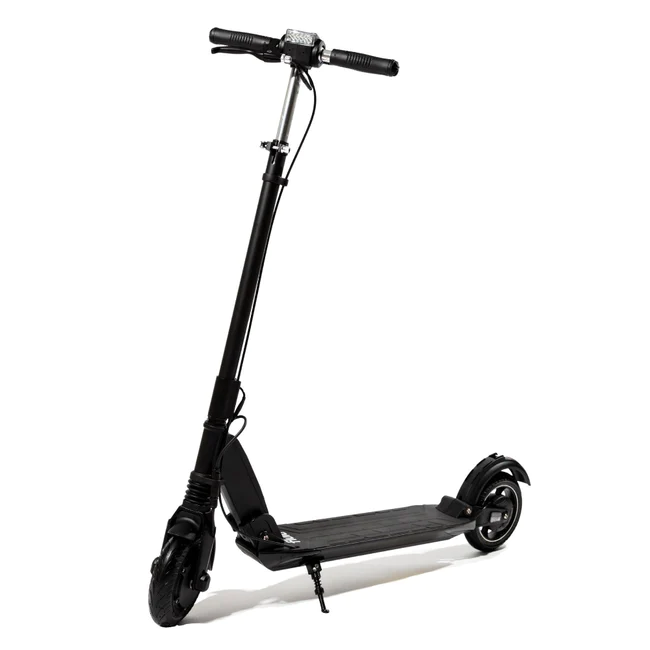 Build Quality, Waterproofing and Overal Durability
The fluid Mosquito is constructed with quick and streamlined movement in mind, and has a great balance of performance and portability. So it's just like a real life mosquito — is highly efficient in the city, super small in size but its presence is always noticed. Exactly like this electric vehicle… except for the blood-sucking part.
It has a really solid stem and a steady handlebar with zero wobble. The stem is pretty strong but not so much that it hinders maneuvering through traffic and turns. The deck is covered in silicon (which is a lighter material than natural rubber) for added stability and grip.
This electric scooter has an IPX5 rating so it can adequately handle light rains. Like most scooters, water damage is not covered under the warranty, so be careful about riding in extreme weather.
Portability – An Ultra Lightweight Scooter
The fluid Mosquito is hands down one of the most portable electric scooters I've ever ridden. It weighs a breezy 29 lbs, so you can carry it with you wherever you go. When folded down, it's also incredibly compact since the stem and foldable handlebars retract.
Forget your car trunk, it could easily fit into a shopping cart at the grocery store!
It can handle rider weight up to 265 lbs which is pretty standard.
I love that there's also a strap that makes it easy to sling it on your shoulders.
Speed and Range
This electric scooter has a top speed of 25 mph. For an ultraportable scooter that weighs so little, it has really impressive acceleration and speed capacity. In our test rides, we were able to reach top speeds of 23mph, which is just short of the speed Fluid manufacturing published.
You can also do a total of 22 miles on a single charge. This is great if you have a slightly longer commute of around 7 miles, so you can comfortably do a round trip without worrying about running out of juice. However, the battery life goes down really quick when you push top speeds, so except about half the mileage when you're riding fast.
Suspension and Off roading
The Mosquito does have front and rear spring suspension that place it squarely in the smooth but not that smooth territory. It's the kind of ride that gives great handling and is going to feel like you're gliding if you're on very smooth terrain, but bumps/cracks in the road or gravel will definitely snap you back to reality.
Note that it also has solid tires, which can make for a stiffer ride overall.
This also means that the fluid Mosquito is not the best choice for off-roading, even if it's mostly even terrain. is only good enough if you're riding on the bike lane on smooth terrain.
Battery and Motor
Here's my favorite thing about the fluid Mosquito – it charges in only 5 hours! Equipped with a 48V 9.6Ah Lithium-ion battery, its max range is impressive. It also has a 500W motor with 700W peak output that accelerates swiftly from 0 to 25 mph so the ride quality felt fluid (pun intended!) and big on fun.
Bonus Features
I can't wrap up this review without talking about the other bonus features this scooter has.
It has a super loud electric horn, incredibly bright LED head lamps for increased night visibility
Pros
Ultra-portable scooter with ergonomic folding mechanism
Extremely lightweight scooter at 29 lbs
Impressive weight capacity of 265 lbs
Fast charging time of 5 hours
Intuitive electric throttle
IPX5 water rating
Bright LED lights and lateral reflectors
Cons
Not suitable for faster long rides
Poor performance during hill climbing
Suitable for
The fluid Mosquito's unique selling point is clearly how lightweight and compact it is — but it doesn't disappoint with electric motor performance either. However, it's not the best choice for longer rides.
Check it out here.
---
5. EMOVE Touring – Best Electric Scooter for Heavy Riders
Top speed: 25 mph
Weight: 39 lbs
Wheel size: 8 inches
Motor: 500W
Range: 32 miles
The Emove Cruiser is a big favorite at Scootermap: it topped the list for the best dual motor scooters, best heavy rider scooters, and also the best long-range.
That's why we were so excited to see how the Emove Touring compared — and it was almost exactly what we had expected. The Emove Touring is a smaller and more affordable version of the Cruiser, with a modest decrease in each of the performance metrics — while still maintaining the all-rounder Emove appeal.
Build Quality
Not as bulky as the Crusier, the Emove Touring has a more a stylish and minimalist design. It has a straight bicycle-handlebar design, but a slightly curved handlebars would've been more ergonomic and comfortable. On the plus side, straight handlebars are easier to fold down!
The deck is much wider than others on this list at 22 inches in length and 7 inches in width. This is a feature that Emove took into consideration through rider feedback, and it makes for a much more comfortable riding stance.
The deck also has higher ground clearance — which means it's built to have more space between the ground and the deck.
Suspension and Ride Quality
It's furnished with a combination of pneumatic tires and solid tires, which is a good compromise between maintenance and shock absorption. It has the best suspension in its class – front and rear dual suspension. For an affordable electric scooter, it's clear the Emove team hasn't cut any corners.
Portability
The EMOVE Touring weighs only 39 lbs. While it's not the most lightweight scooter on the list, it's still carryable by most adults.
Along with its easy folding mechanism and reasonably lightweight materials, this is a decently most compact and portable scooter.
Weight Load Capacity
Since the Emove Cruiser is known for being an oversized adult's best friend — we had high hopes from it's little brother, the Emove Touring.
The Emove Touring can actually deliver 308 lbs, which is incredible considering most affordable scooters don't offer more than 220lbs weight capacity.
It's also approved by our 250lbs+ test riders, who found it really comfortable and stable, even when pushing higher speeds.
Speed and Range
The Touring electric scooter has a maximum speed of 25 mph. Being on the lighter side, I was able to get a realistic speed of around 22mph. That number dropped down to around 17mph for riders around 250lbs. It's still pretty limber while riding in urban areas, but this is by no means a racing scooter.
It has a max range of 32 miles which is higher than a lot of the Segway and GoTrax scooters (popular for being affordable, beginner scooters).
Battery and Motor
This scooter's 500W brushless motor was able to go toe-to-toe with other, more powerful scooters while climbing gentle inclines. As long as you don't live in San Francisco, you should be fine. I clocked its 48V 13Ah LG battery full charge time at 8 hours – and this is standard for most models that have 48V batteries.
Pros
Gentle hill climbing capacity
Outstanding load bearing capability
IP54 water resistance rating
Efficient LG battery
Super compact and portable
Very affordable
Best-in-class suspension system
Cons
No dual-wheel braking system
The solid rear tire is not great at shock absorption
Suitable for
If you have a tight budget but don't want to compromise on the build or the ride quality, the EMOVE Touring will be a good pick. It's the best choice for heavier adults who can't afford to buy premium scooters.
Check out the best price here.
---
Buying Guide
Build Quality
The best electric scooters are made from high-quality materials that are sturdy enough to handle any kind of ride while still being comfortable. Most scooters use aerospace-grade aluminum alloy or carbon fiber for their parts. Strong handlebars and solid decks coated with non-slip rubber or silicone are necessary to avoid a rough ride. A comfortable ride quality comes from ergonomically designed scooters that are also fun and safe to use.
Brakes can either be in the form of a foot brake or a hand brake. I prefer a hand brake because it is easier to control. Make sure you take note of the braking system as well – usually, electric scooters will have a drum brake, disc brakes, or electronic brakes. Hydraulic brakes are also popular choice.
Tires
Electric scooters usually have solid tires or pneumatic tires. Solid ones are airless and considered mediocre in comparison to pneumatic ones. You can usually feel the bumps on the road while riding. But, they require way less maintenance since you can't get a flat tire.
Pneumatic tires are what we recommend, no matter what your budget is. Pneumatics perform better in absorbing shocks regardless of if it has an in-built suspension system or not. They are one of the most significant factors in giving you the best ride quality, although they are more prone to flats and punctures. But their inner air-filled tubes can be easily replaced.
Suspension
Three main suspension systems are usually used in electric scooters: rubber, spring, or hydraulic suspension. The best electric scooter will have dual suspension which will be a combination of those. They are usually attached to the front or rear wheel, or both. Some scooters may not have any suspension at all so try not to pick those as they can seriously damage your joints in the long run.
Portability
If you need to carry your scooter in hand regularly, the scooter has to weigh less while still having a good weight capacity of around 220lbs. Starting from 25 lbs to 40-50 lbs, portable scooters are all over the market. Look for folding handlebars, straps to carry them, and convenient latches built in for securing the stem once folded down.
Range and Speed
The range and speed of an electric scooter is the main reason riders pick high-end scooters over budget scooters that have limited range and speed. It depends on your lifestyle, however, because if you need the scooter for your daily commute around the city, then a range of 20-25 miles will be good enough.
But if you want a powerful scooter that can go very far on a single charge and at high speeds you should look into scooters built specifically to provide long ranges.
Scooters have varying maximum speeds depending on their prices. Usually, a scooter should give you at least a speed of 25 mph for rides around your town.
Motor Power
Most scooters for adults have wheel hub motors. They will usually have at least a single motor, ranging from around 200W and it goes up to 2000+W. More powerful scooters will have two motors, like the Mercane WideWheel Pro.
Dual motors offer greater torque and a more dynamic riding experience: so if you're choosing between one 1000w single motor scooter and a dual 500w scooter, choose the latter.
Battery life
The battery capacity is directly linked to the motor. So if you have a poor quality battery and a strong motor, it won't do a good job in the long run because your battery will run out faster or encounter several internal malfunctions, rendering the motor strength useless. Other electric scooters in different price ranges also have a removable battery system, which increases the total range.
The battery life is also linked to what riding mode you choose to use. Most models have two or three riding modes that you can pick from that help regulate the speed and how much battery power is being used. Some scooters even have a cruise control option that can be activated after riding a certain distance while maintaining a steady speed.
---
FAQ Section
Which is the best electric scooter for under $1200?
The WideWheel Pro is our top pick for the best electric scooter under $1200. With its dual 500W rear and front motors, decently smooth ride and sturdy build, it's one of the best choices for beginner riders.
How to choose an electric scooter?
When you're choosing among the best electric scooters, you should make sure to evaluate their specifications such as motor power, battery capacity, portability, top speed range, max weight capacity, and how much range they can offer you. Different scooters have different purposes. If you want to buy a scooter specifically for commuting long distances then you have to pick one that is built for that.
Are electric scooters legal?
In most states in the US, it is legal without too many restrictions. Whereas in Canada, only some provinces have regulated laws and rules to be followed. Check out your country/state/municipality websites to ascertain whether electric scooters are allowed under their jurisdiction.
---
Conclusion
Not all scooters are built the same.
The different factors that affect your ride — braking performance, acceleration, build quality, motor and battery power, and many more — tend to determine how well and how long you can use your electric scooter.
The best electric scooters in every category are out there for everyone and every requirement, so make sure you choose only scooters that serve your needs.
If you're still confused about what to choose, I would suggest our top pick the WideWheel Pro.
Scootermap may collect a commission if you make a purchase after clicking on one of its links to an external website like Amazon. Please see our affiliate disclosure for further information.